Country of Craftspeople: Developing Crimean Tatar Culture in Diaspora
By Greta Uehling*
As a result of the unlawful occupation of the Autonomous Republic of Crimea, the Crimean Tatars have been displaced within their own state. While we still lack exact figures, an estimated 20,000 (some 9,000 Crimean Tatars) have left the peninsula to preserve their lives and safety. For those who stay in Crimea, pressure from local authorities, as well as blatant human rights abuses, have contributed to the trauma of living in an occupied territory. The effects of this trauma will be felt far into the future.
A wider discussion of the growing list of human rights abuses is in order. What also warrants attention, however, is the way in which Crimean Tatars are envisioning and creating a future in continental Ukraine. In the face of incredible hardship, Crimean Tatars have become intensely engaged with preserving, as well as advancing their material culture and traditions.
Organizers of Tamga Collective
Tamga is among the organizations that has a concrete plan to prevent the dissolution or degradation of Crimean Tatar culture in the face of what may be a protracted diaspora. They have designed a project that, if funded, will educate the Ukrainian public and global community; help Crimean Tatars in diaspora preserve their crafts; and provide those living on the Crimean peninsula with much needed support.
The first projected phase is to create a hospitable setting in which artists and craftspeople could preserve and develop their crafts. To this end, Tamga aims to create studios to develop traditional crafts including: pottery, metalwork, embroidery, and jewelry (including filigree).
Magnets with Tamga symbol
They plan to invite a knowledgeable and skilled craftsperson into each studio to teach one or two students. In the course of a year, traditional arts could be not only be preserved but passed on with newly inspired and qualified specialists.
Each studio would be tasked with developing a collection comprised of both material and non-material culture. In other words, material culture is integrally related to, and would be demonstrated alongside Crimean Tatar cuisine, dance, etc. Tamga is concerned to amass sufficient funds because at the outset, these collections are resource-intensive: both equipment and raw material are needed.
After a years' time, the teams and their collections would then travel to some five major Ukrainian cities. Tamga is interested in departing from the traditional approach because one-off exhibits are quickly forgotten and do little to actually sustain the culture. They envision the travel as akin to a series of installations. Craftspeople will provide demonstrations and hands-on classes that leave participants with both indelible memories and practicable skills.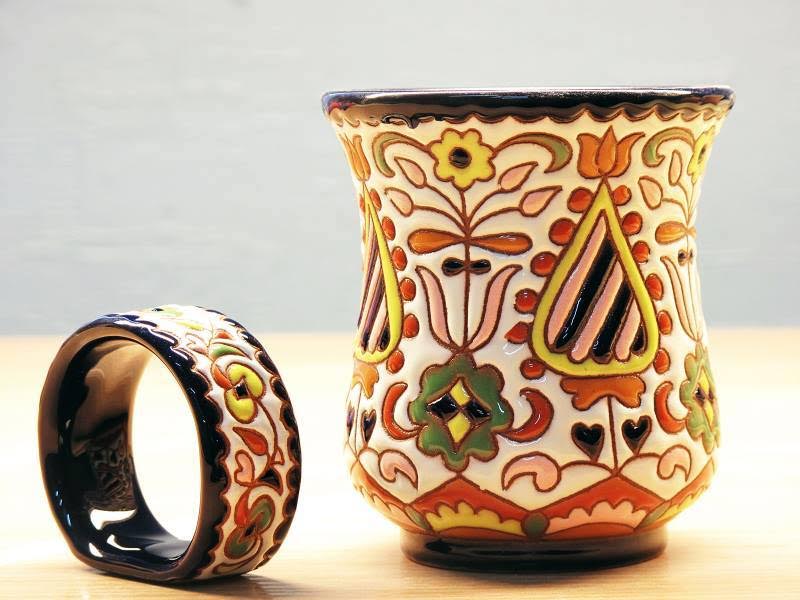 Pottery by Rustem Skibin
The mobile component has an intercultural dimension. Since the Maidan, Ukrainians have readily admitted that they did not take enough interest in Crimean Tatar culture: they don't have a deep enough understanding or familiarity with it. This is a project that could open channels of communication between Ukrainians and Crimean Tatars. Ukrainians could gain a better understanding of Crimean Tatar culture, and Crimean Tatars in the five cities would have more tangible and viable ways to demonstrate what their art, music, and values are about. This is a project with a very unique time and place. Tamga's preference is for Crimean Tatar arts and culture to be presented through Ukrainian, as opposed to Russian channels.
The Tamga collective has found in their travels that what constitutes Crimean Tatar culture in the diaspora varies from one region to the next. Cuisine, dress, and dance are often hybrid forms developed on location. What is needed now, they feel, is a much more intensive exchange of knowledge and experience.
Filigree belt for women
The project is intended to be self-sustaining. For example, craftspeople could continue working on the proceeds of what they sell in the first phases of the project. And installations and classes in Ukrainian cities would enable people in these locations to practice these arts in an ever-wider ripple effect. Educational videos on Crimean Tatar material culture could potentially be an added support.
Of no small significance here is that the craftspeople expected to participate are currently residing in Crimea. Generating funds to carry out this project would contribute immensely to maintaining connections an otherwise isolated peninsula, and potentially even counteract some of the isolation felt by Crimean Tatars at this time.
The Tamga collective is hoping to realize this project in the near future as a way to bring Crimean Tatar culture into a new phase of flowering and development.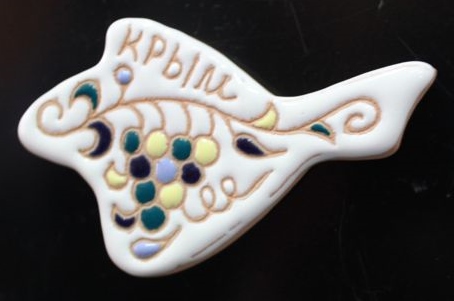 Magnet "Crimea"
* Dr. Greta Uehling teaches at the University of Michighan, Ann Arbor, and serves on the Board of Directors of the International Committee for Crimea, Inc.
Posted: 30 July 2015