Remarks made at "Fallen Heroes" Vigil
White House, Washington DC
23 February 2014
By Inci Bowman
We have gathered here to honor the memory of Ukrainians who gave their lives during Euromaidan protests in Kyiv. They were the brave people who risked their lives so that their country can get rid of the corrupt government officials. They risked their lives so that that they can live in a country where the rule of law prevails. They risked their lives because they wanted to live in a democratic society where the rights of individuals are respected. We are here to honor their memory and to make sure that their sacrifices will be remembered for many generations to come.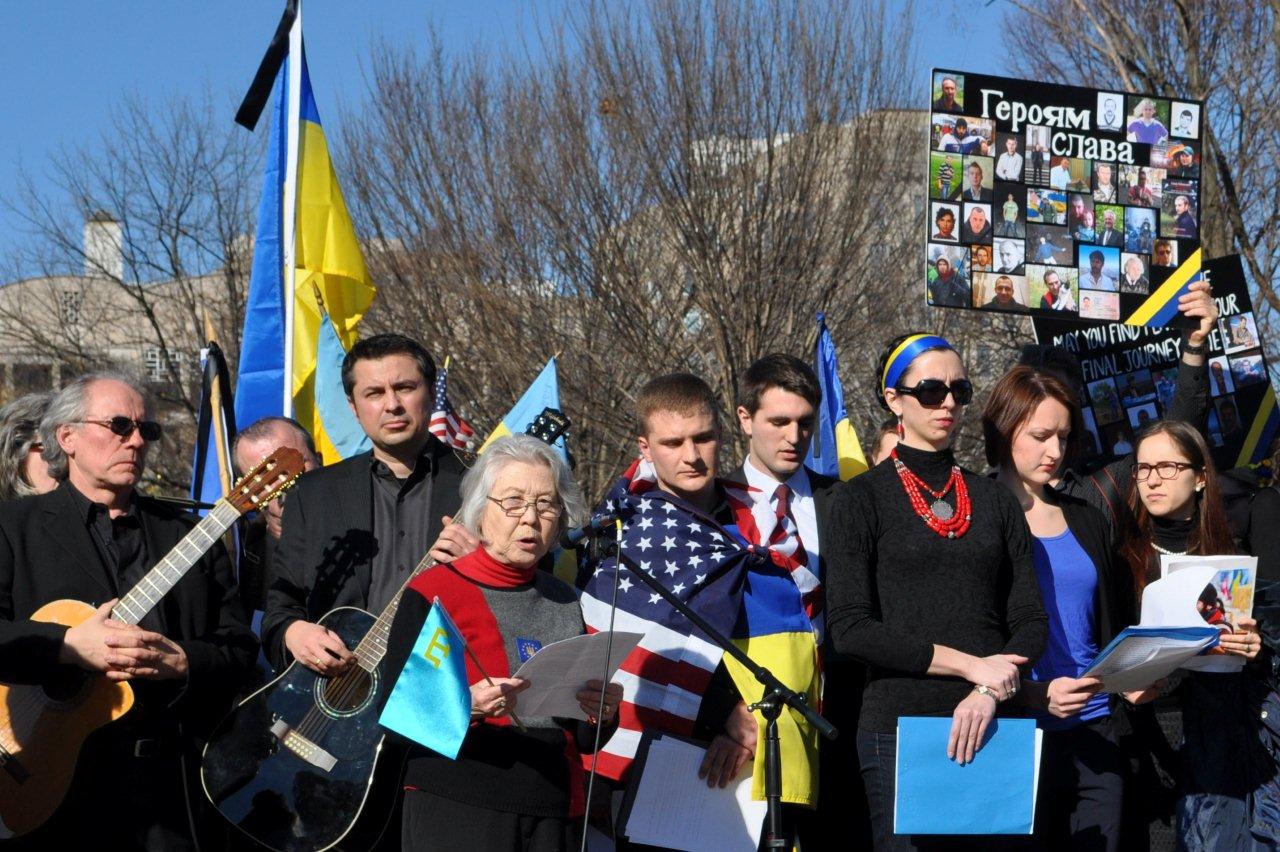 Inci Bowman speaks at "Fallen Heroes" Vigil
Crimean Tatars became involved in the Euromaidan movement from the very early days of protests last November. They strongly believe that their full integration into the society depends on the development of democracy in Ukraine and with further association of the country with Europe.
Some of you may not know much about Crimean Tatars, indigenous people of Crimea, with a tragic history. This year we will be observing the 70th anniversary of Crimean Tatar deportation from their homeland Crimea by Stalin's government. At that time Crimea was a part of the Soviet Union. Crimean Tatars remained in exile for nearly 50 years and were able to return to their homeland, now a part of Ukraine, after the collapse of the Soviet Union.
Under Yanukovich's administration, Crimean Tatars experienced many setbacks. It was natural that they would support any movement against Yanukovich's rule. Crimean Tatars have had a presence among the protesters. Their ethnic flags were seen among Ukrainian and European Union flags at Euromaidan. Crimean Tatar leaders visited Kyiv and spoke to protestors.
Participants at "Fallen Heroes" Vigil
Just a few days ago, CT leader Mustafa Jemilev, well-known human rights activist and a member of the Ukrainian Parliament, spoke to the protesters: "Not one bloody dictator escaped punishment, and Ukraine will not be the exception," he said. The guilty parties will be held responsible for each drop of blood of the heroes and patriots that were spilled. I am proud of you dear compatriots. I am proud, because I am Ukrainian!"
Crimean Tatars have been the only group in Crimea opposing the separatist inspirations of the Autonomous Republic of Crimea. Speaker Volodymyr Konstantinov stated that Crimea may secede from Ukraine if the country splits and traveled to Russia to confer with the Kremlin. Crimean Tatar leader Refat Chubarov responded immediately: "This is our land, our country. We will not allow this to happen." And, Mustafa Jemilev said that this move amounts to treason and the General Prosecutor's office should to take appropriate measures.
Crimean Tatars will not forget the Fallen Heroes of the Euromaidan protests. Both the protesters and ethnic Tatars believe in the same ideals.
Crimean Tatars never forgot Petro Grigorenko, their friend and staunch defender, a former Soviet general and a Ukrainian. Grigorenko first came into contact with Crimean Tatars in 1968 in Moscow. He urged them to take a more aggressive approach to seek their rights to return to their homeland. He told them the crimes committed against Tatars by the Soviet government amounted to genocide under international laws. Because of his defense of Crimean Tatars, Grigorenko spent 5 years in psychiatric confinement. Crimean Tatars never forgot the sacrifices endured by Petro Grigorenko.
Similarly, Crimean Tatars will not forget the Fallen Heroes of Euromaidan. Those who gave their lives will be like stars during the day, unseen by mortal eyes. However, they will shine forever in our hearts and will be remembered for many generations. Theirs will be eternal peace. We do honor to their memory.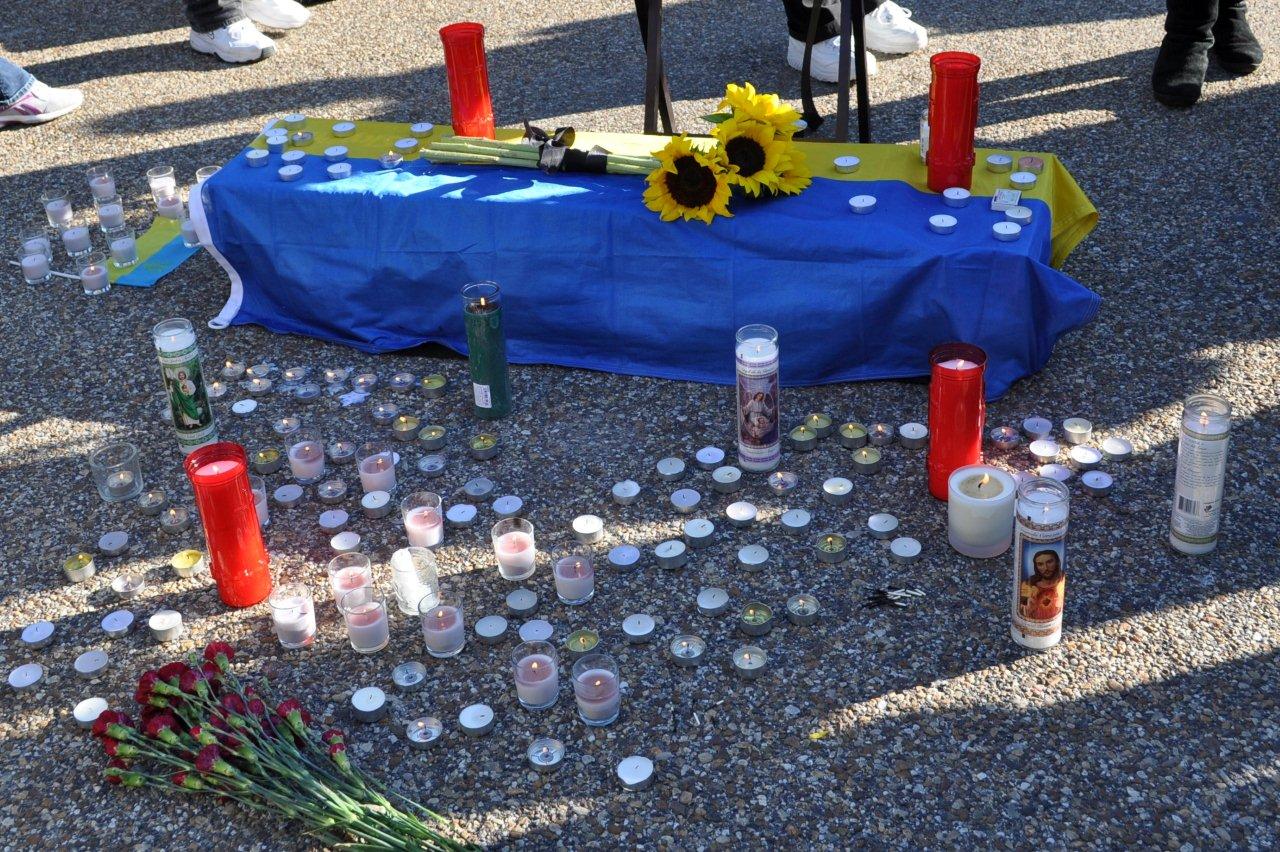 Symbolic coffin at "Fallen Heroes" Vigil