International Committee for Crimea, Inc.
ICC. P.O. Box 15078, Washington, DC 20003
For breaking news, please go to ICC's Facebook page, updated regularly.
Of Interest
Crimean Tatar Flag Day, June 26
Crimean Tatar Flag Day was observed in Washington, DC, as well in Kyiv and Turkish cities like Istanbul and Ankara. On that day, the blue flag of Crimean Tatars (Gök Bayrak) flew along with the Ukrainian Flag on the roof of the Embassy of Ukraine in Washington. Inci Bowman, ICC President, was invited to attend the ceremony and spoke briefly about the significance of the flag. The Gök Bayrak has been the national symbol of Crimean Tatars since 1917, when the first Kurultay (elected assembly) met in Bakchisaray, Crimea. Following the return of exiled Crimean Tatars to their homeland, the second Kurultay met in Simferopol in June 26-30, 1991 and reaffirmed the Gök Bayrak as their national flag. Hence, June 26. On the other hand, the Flag Day was not always a happy occasion. Crimean Tatars displaying their flag in occupied Crimea have been questioned, even arrested by Russian authorities.
Crimean Tatar Flag at the Embassy of Ukraine, Washington, DC
Photo Credit: Embassy of Ukraine
Ceremony at the Victims of Communism Memorial
ICC participated in the 10th Annual Roll Call of Nations Wreath Laying Ceremony, sponsored by the Victims of Communism Memorial Foundation, on 9 June 2017. Held at the site of the Victims of Communism Memorial in Washington, DC, the Ceremony honored the memory of more than 100 million victims of communist regimes. Over 300 individuals, representing a record number of 23 embassies and 34 ethnic and human rights organizations, attended the event. On behalf of the ICC, President Inci Bowman presented a wreath, honoring more than 100,000 Crimean Tatars, victimized by political repression, famines and deportations. ICC participated in the annual event every year since the unveiling of the Victims of Communism Memorial in 2007.
Presenting wreath honoring Crimean Tatars
Crimean Tatar Lawyer Wins Award
Emil Kurbedinov, a Crimean lawyer who defended many persecuted Crimean Tatars, has received the 2017 Award for the Human Rights Defenders at Risk, given by Front Line Defenders in Dublin, Ireland. In his acceptance remarks on May 26, Kurbedinov stated that the honor truly belongs to all the lawyers and human rights defenders in Crimea, "all those people who go to the courts, who continue the struggle. This is our shared award." In addition to handling court cases, he also provides emergency response during raids and searches of the homes of activists by giving them legal advice and documenting violations of rights. See also:
"Crimean Tatar rights lawyer Emil Kurbedinov wins major human rights award"
by Halya Coynash.
Kurbedinov receives human rights award
Photo credit: Irish TImes
Memorials for Victims of Deportation
The 73rd anniversary of Crimean Tatar deportation was commemorated in Kyiv and other cities outside of Crimea, where significant Crimean diaspora communities are found. This is a day of morning for Crimean Tatars, a day marked with prayers for the victims of the brutal deportation from their homeland Crimea on 18 May 1944. Nearly half of the deported died during the transit and in places of exile within two years. In Kyiv, more than a thousand people participated in a rally, including the Mufti of the Spiritual Administration of Muslim Ukraine, who offered a prayer for the victims. Mustafa Jemilev also attended the rally and spoke to the group with encouraging words: "When the Soviet regime deported dozens of nations, the civilized world was occupied with its post-war problems. Now Ukraine and the whole civilized world are together with the Crimean Tatar people." He expressed his belief that the Russian forces will withdraw from homeland Crimea some day and that "the occupier will be expelled from our territory; the invader will definitely answer for all crimes against the Ukrainian state and the Crimean Tatar people. And let the souls of the innocently murdered ones inspire us to struggle for the restoration of our rights." For further information: "Memorial rally for Crimean Tatars deportation victims in Kyiv."
Memorial rally on May 18 in Kyiv
Photo credit: Crimean News Agency (QHA)
17 April 1938: A Tragic Day in Crimean Tatar History
Crimean Tatars remember the tragic day of 17 April 1938, when Crimean Tatar leaders and members of the intelligentcia were executed in Simferopol by Soviet authorities. Among them were Hasan Sabri Ayvazov (editor of the newspaper Terjuman, writer and administrator); Osman Akcokrakli (educator, scholar and university teacher); Huseyin Badaninski (ethnographer and museum director); Cafer Gaforov (journalist, writer and poet); Abdulla Latifzade (philologist and poet); and Ilyas Tarhan (writer and government official). It is not clear today how many Crimean Tatar intellectuals and professionals were shot to death during a 3-day period (April 17-19) and their burial place is unknown. We honor their memory, dedication and contributions. They will not be forgotten.
Victims of 17 April 1938
Illustration: Emine Emirsaliyeva
Nowruz Celebration in Washington, DC
International Committee for Crimea, Inc. was invited to the Nowruz Commission's Gala by the Embassy of Ukraine. We helped the Embassy staff organize a cultural exhibit of Crimean Tatar arts and crafts. The festive event was held on 18 March 2017 in the Andrew Mellon Auditorium, Washington, DC. The Ukrainian Embassy participates in Nowruz Commission's events because of Crimean Tatars, the largest minority group in Ukraine who observe Nowruz. The Nowruz Commission consists mostly of ambassadors from countries where Nowruz is traditionally observed, and and aims to keep this cultural tradition alive and to educate the communities in the United States about the significance of Nowruz and the arrival of Spring.
Ayla Bakkalli with Ukrainian Ambassador Valeriy Chaly
Day of Crimean Resistance to Russian Occupation
February 26, 2017, marked the 3rd anniversary of the controversial Russian annexation of Crimea. In support of Ukraine's integrity, Crimean Tatars living in Kyiv, Istanbul, Ankara and Constanta (Romania) held rallies and protested the ongoing human rights violations in Crimea. The Day of Crimean Resistance was also observed by Ukrainian groups in Paris, Tel Aviv and Amman (Jordan). On that day 3 years ago, Crimean Tatars and pro-Russian residents of Simferopol clashed at the Crimean Parliament. The next day, men wearing military uniforms with no insignia took control of the government buildings and the airport in Simferopol. It is estimated that 20,000 Tatars left their homeland Crimea since the Russian occupation and are now living in various cities of Ukraine.
Day of Crimean Resistance rally in Kyiv (Photo Credit: QHA)
The film "Crimea: The Resistance" depicts vividly the steps involved in the annexation of Crimea by Russia. The 23-minute video, narrated US historian James Austin (with Ukrainian subtitles), was published on You Tube in July 2016. It can be viewed at: www.youtube.com/watch?v=qo_lc3lBOXY&t=147s
Arrests and interrogations continue in Crimea
Since the occupation of Crimea, Russian authorities have detained, imprisoned, intimidated and banned many Crimean Tatars who opposed and peacefully demonstrated against the rule. Recently, two human rights lawyers who represent Crimean Tatar leaders and activists have have been detained. Nikolai Polozov, who defends Akhtem Chiygoz (imprisoned without a trial) and Ilmi Umerov (detained and subjected tp psychiatric examination) was interrogated on January 25. Emil Kurbedinov, a Simferopol-based lawyer who represents Crimean Tatar activists, have been arrested on January 26 and remained in prison for 12 days. In addition, 6 Crimean Tatars have been found dead and 11 have been missing, as of December 2016. For more detail on the intimidation of lawyers, see the Human Rights Watch report: "Crimea: Defense Lawyers Harassed"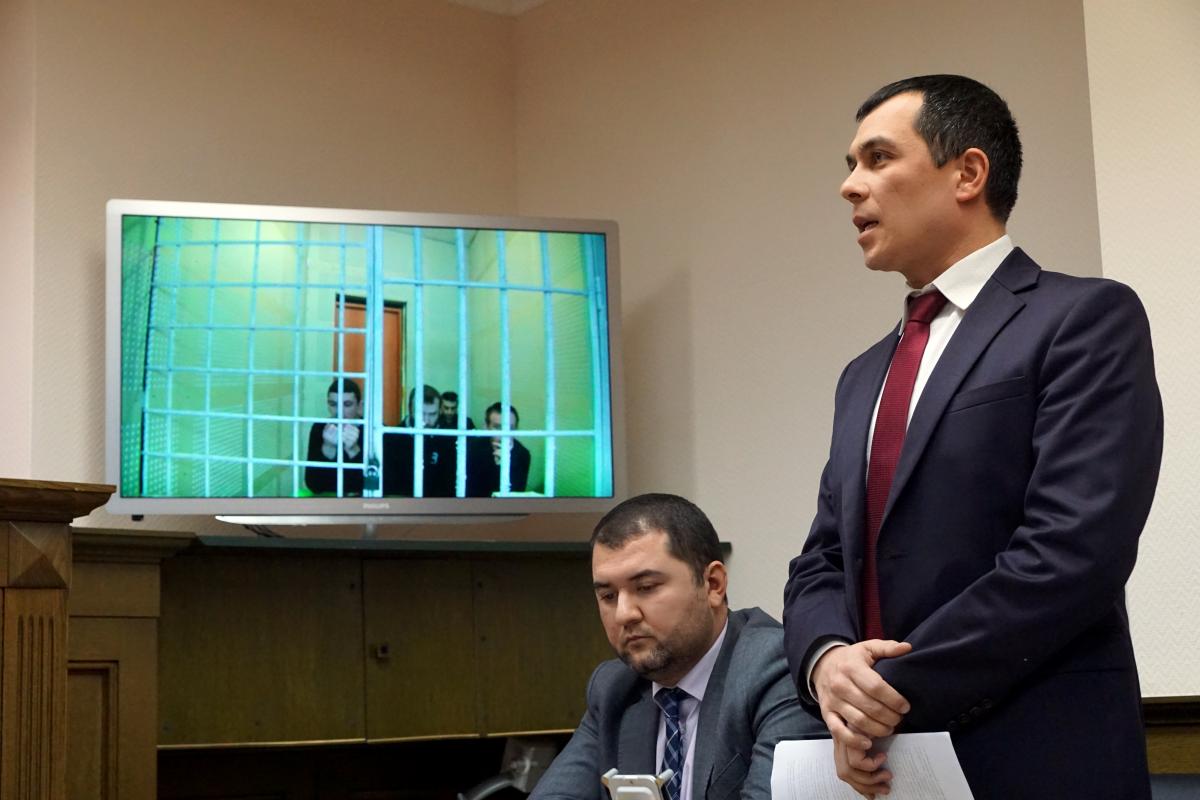 Emil Kurbedinov, defense lawyer (Photo Credit: RFE/RL)
New Additions to the ICC Web site
What did the US Department of State know about Crimean Tatars in Turkey just as the Soviet Union came to an end? An excerpt from a 1992 report, "Soviet Muslim Emigres in the Republic of Turkey," summarizes the status of community, organizations and publications of the Crimean Tatar diaspora in Turkey. See the report, "The Crimean Tatars in the Republic of Turkey: Summary" by Lowell Bezanis.
A second addition is a favorite poem, Clouds, Clouds" by Bekir Sitki Çobanzade (1893-1937), a Crimean Tatar scholar and poet. Translated into English by Mubeyyin B. Altan, the poem express the nostalgia for Crimea that Çobanzade felt while living far away from his homeland.
ICC participates in Turkish Festival
The ICC participated in the annual Turkish Festival, held in downtown Washington, DC on September 25. Joining forces with United Help Ukraine, we had a booth featuring books, DVDs, Audio CDs and Ukrainian and Crimean Tatar crafts. Organized by the American Turkish Association of DC, the Festival is considered the best ethnic event or "Best of DC" in the Best Festival category. An additional feature this year was the KIRIM Efsanesi (Legend of Crimea), a group of young dancers from New York who performed traditional Crimean Tatar dancers at the Festival.
Award-winning documentary at Wilson Center, Washington DC
"A Struggle for Home: The Crimean Tatars" was screened successfully at the Kennan Institute of the Woodrow Wilson International Center for Scholars, Washington, DC on 26 May 2016. Program also included commentaries by Christine Paschyn, Film Director; Inci Bowman, ICC President; and Catherine Cosman, Senior Policy Analyst, US Commission on International Religious Freedom. The film was later shown at the U.S.- Ukraine Foundation in DC late in the afternoon.
The new documentary about Crimean Tatars won the Best International Film Award at the DC Independent Film Festival (DCIFF) in Washington, DC, in March 2016. In making the documentary, Director and Producer Christina Paschyn interviewed Crimean Tatar residents and activists, survivors of the Deportation, Russian nationalists, and scholars. The film tells the tragic history of Tatars and the new challenges they face under the Russian occupation of Crimea. It has already been screened at film festivals in Amsterdam, Doha (Qatar) and elsewhere, and were shown in various US cities (New York, Philadelphia, Chicago, Minneapolis) and European Parliament in Brussels. We offer our heart-felt congratulations to Christina Paschyn and hope that it will go on winning more awards and spreading the word about Crimean Tatars.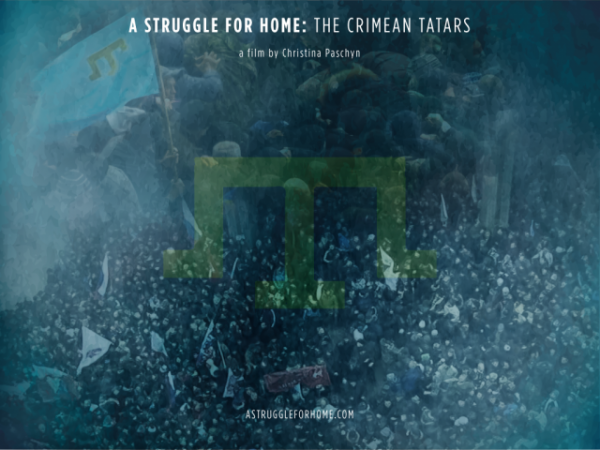 A Struggle for Home , Washington DC premier, 10 March 2016
For information on DCIFF screening:
http://dciff-indie.org/2016-documentaries/a-struggle-for-home/
The film trailer is available at:
https://vimeo.com/astruggleforhome/trailer
For further information on film:
http://astruggleforhome.com/
A Timeline: Crimean Tatars under Russian Occupation
It has been more than two years since Russian forces seized control of government facilities in Crimea and quickly moved to organize a questionable referendum that resulted in Russia's annexation of the peninsula in March 2014. Crimean Tatars have been under tremendous pressure ever since. Here we offer a brief chronology of events that lists human rights violations, including harassment and deportation of activists, exiling of Crimean Tatar leaders, intimidating members of the media, and illegal searches, confiscation of property, missing individuals and murder. Such abuses did not go unnoticed, and various governmental bodies and human rights organizations in the West responded by issuing statements and reports, documenting undue pressures exerted on the Crimean Tatar population. See: "A Timeline: Crimean Tatars under Russian Occupation."
"Crimea and the Crimean Tatars"
"Crimea and the Crimean Tatars" is a 4-minute slide program created by Barbara Wieser, a member of the ICC Board of Directors. It aims to familiarize the viewer with the homeland of Crimean Tatars and their recent experiences under Russian occupation. We would like to acknowledge the assistance of Lillia Muslimova in selecting the music and certain images. The program may be viewed on YouTube: https://youtu.be/cQAqBvvKJro
Photographs relating to Crimean Tatars and Related Activities
Photographs relating to Crimean Tatars and related activities are now available at the FLICKR or PICASA Web sites:
Last Update: 30 July 2017