International Committee for Crimea, Inc.
ICC. P.O. Box 15078, Washington, DC 20003
For breaking news, please go to ICC's Facebook page, updated regularly.
Of Interest
Commemorating May 18, the day of Sürgün
As part of our plans to commemorate the Deportation of Crimean Tatars in 1944, the ICC organized a ceremony at the Victims of Communism Memorial in Washington, DC. On the 18th of May, exactly 75 years after the begining of the brutal relocation of Crimea's indigenous population, a group of Crimean Tatars and their friends gathered to honor the memory of those who lost their lives during this horrendous process. Inci Bowman, ICC President, served as Master of Ceremonies, and remarks were offered by Oxana Shulyar, Deputy Chief of Mission, Embassy of Ukraine in the US; Catherine Cosman, former staff member at US Commission on Religious Freedom; and Idil Izmirli of the George Mason University, Arlington, VA. Participants, whose families were victimized by the SSürgün experience shared their stories. The event was concluded by reading of a poem, "18 Mayıs Matem Künü" [18 May, Day of Mourning] by Ercivan Kermenchikli and lyrics of the song "1944" by Jamala, winner of the Eurovision Song Contest in 2016.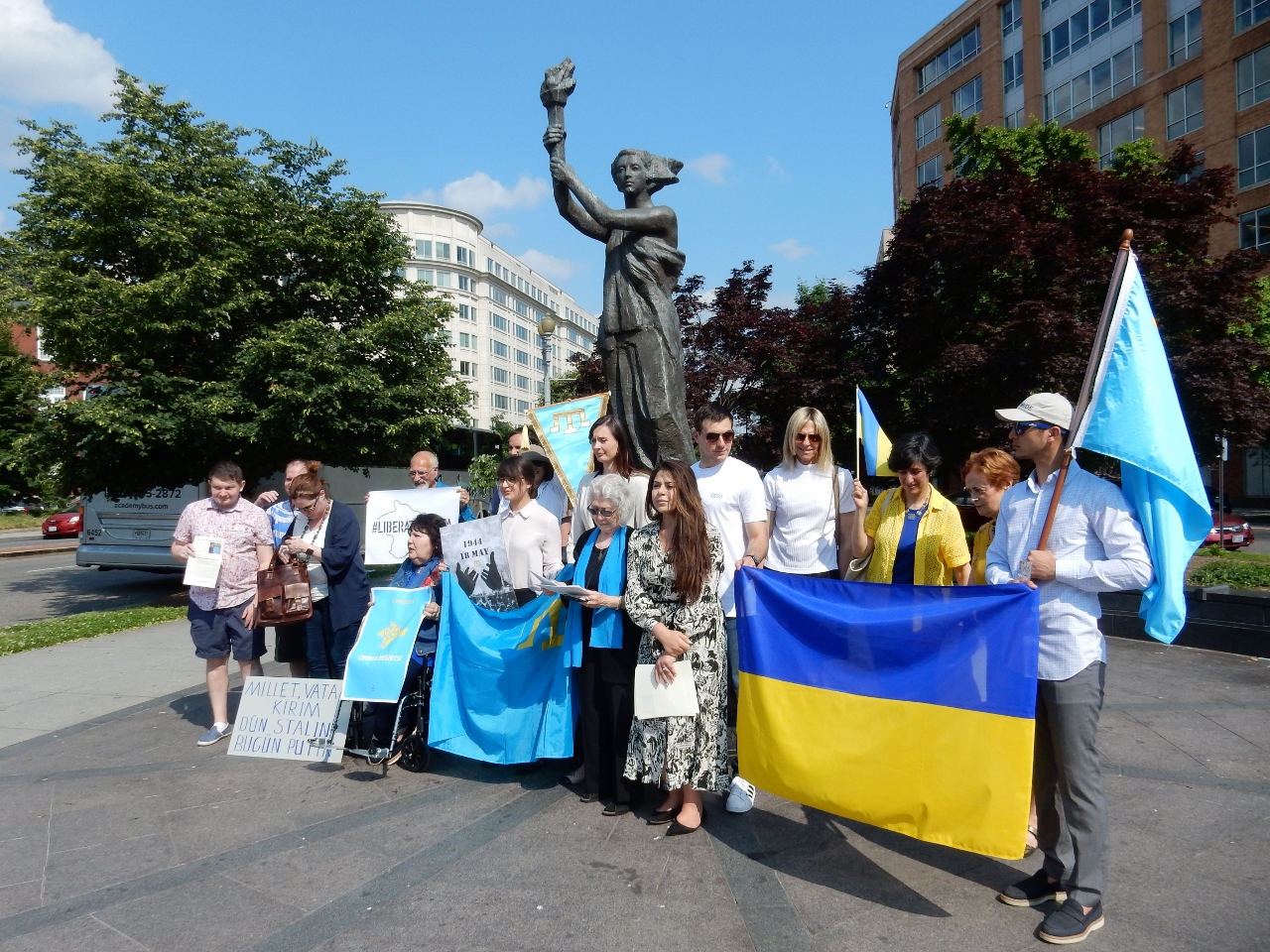 Timeline: Deportation and exile of Crimean Tatars under Soviet rule
On the 75th anniversary of Crimean Tatar Deportation, we publish this Timeline, covering the period when the entire population of Crimean Tatars lived in exile from 1944 to 1989. They were forcibly relocated to Siberia and Central Asia, mostly Uzbekistan, where they lived under special restrictions until 1956. While the charges of treason leveled against them were lifted in 1967, they could not return to Crimea. It would be another two decades, when the permission to go home was granted in 1989. The Timeline can be accessed here: http://www.iccrimea.org/reports/timeline2019.html
Vigil for victims of Crimean Tatar Deportation Sürgün
In commemoration of the upcoming 75th anniversary of the Deportation of Crimean Tatars (Sürgün), a vigil was organized at the Diyanet Center of America (Lanham, Maryland) on 27 April 2019. Consisting of recitation of Mevlid-i Sherif and prayers from the Qur'an, the program took place in the beautiful mosque of the Diyanet Center, the largest Islamic complex in the United States. A group of 50 people from the Crimean Tatars community in New York also attended the vigil. Every year, on the anniversary of the Sürgün Crimean Tatars honor those who died during the brutal relocation process and in exile. Of the nearly 200,000 Crimean Tatars who were expelled from their homeland on May 18-20, 1944, 45% died within two years of exile due to disease, malnutrition and harsh living conditions. It is common to organize vigils in Crimean Tatar communities to remember this tragic event. The ICC assisted in the organization of the Vigil at the Diyanet Center, which is located about 20 miles from Washington, DC.
Vigil at the Diyanet Center of America
Films about Crimean Tatars
Since 2013 there have been a number films and documentaries about Crimean Tatars, varying from a TV documentary in 9 parts, "Son of Crimea" produced by Turkish Television and Radio (TRT) to an award-winning documentary, "A Struggle for Home" by an American media journalist Christina Paschyn. The eight films listed here with brief descriptions focus on the deportation of Crimean Tatars 75 years ago, their long national movement to repatriate, their life and struggle in their homeland Crimea upon returning in the early 1990s, and the repressive life since the Russian occupation of Crimea in 2014. The ICC is pleased to publish here "Films about Crimea and Crimean Tatars."
Jemilev's Tribute to Lyudmila Alexeyeva (1927-2018)
Lyudmila Alexeyeva, the well-known Russian human rights activist who passed away in Moscow late last year was a great supporter of Crimean Tatars. She met Jemilev and other Crimean Tatar activists in the 1960s and defended their right to return to their homeland Crimea. She also opposed the Russian occupation of Crimea in 2014. We are pleased to publish here Mustafa Jemilev's tribute to Ms. Alexeyeva.
A new paper on the indigenous status of Crimean Tatars
The ICC is pleased to publish an important paper by Natalya Belitser, "Crimean Tatar Identity and Related Issues." The paper focuses on the indigenous status of Crimean Tatars, and the efforts by the Russian Federation to ignore the ethnogenesis of the native people of Crimea. Unlike other ethnic minorities living in Crimea (e.g. Greeks, Armenians), who have their own national states, Crimean Tatars have no other state that they can call home. Dr. Belitser also discusses the Ukrainian government's response and legislative initiatives relating to Crimean Tatars since the Russian takeover of the peninsula in 2014. Dr. Belitser is affiliated with Pylyp Orlyk Institute for Democracy in Kyiv, and her paper can be accessed here. (http://www.iccrimea.org/reports/ct-identity-2019.html) .
Children of Crimean Political Prisoners (Credit: QHA)
Crimea: 5 Years under Russian Occupation
Since the illegal occupation of Crimea in February 2014, Crimean Tatars have been the most visible group to resist the occupying authorities. As a result, they have faced increasing persecution. Today, serious human rights violations are being committed against the indigenous population of the peninsula. In the last 5 years, the lives of Crimean Tatars have been impacted by Soviet-style methods of repression, including limitations on freedom of assembly, freedom of speech, enforced relocations and disappearances, and out-right attack on their political and cultural institutions.
Prominent Crimean Tatar leaders and activists have been the targets of harassment, detainment and even criminal prosecution. The Mejlis—the representative body of the Crimean Tatars—was banned as an extremist organization and its leaders, Mustafa Jemilev and Refat Chubarov, were exiled in 2014. Mejlis members Akhtem Chiygoz and Ilmi Umerov were detained and sentenced on fabricated charges, but later released "on humanitarian grounds" by Kremlin in October 2017. Their release was negotiated by the Turkish government.
Occupying authorities closed all Crimean Tatar media, including ATR TV and Crimean News Agency (QHA), and forced them to operate on mainland Ukraine. The Palace of Khans (Hansaray), an important part of the Crimean Tatar cultural heritage, has been partly destroyed under the pretense of "restoration."
35,000 Ukrainian citizens, mostly Crimean Tatars, had to leave Crimea and are now internally displaced people in Ukraine (IDPs). Over 2,000 Ukrainian citizens were deported from Crimea. About 70 political prisoners are still deprived of their liberty, with many being held in prisons and FSB facilities in occupied Crimea and Russia.
Mustafa Dzhemilev's 75th Birthday
On the occasion of his 75th birthday, we would like to extend our best wishes to Mustafa Dzhemilev, the well-known Crimean Tatar leader and former Soviet dissident.
Just a few months after he observed his 70th birthday on 13 November 2013, the Russian Federation occupied Crimea, the Ukrainian peninsula which the Crimean Tatars call home. Following the illegal Russian annexation, a move condemned by the international community, the situation of the Crimean Tatar community began to deteriorate. Their political an cultural autonomy became targets of Russian aggression, with Mejlis (elected, self-governing institution) dissolved and Crimean Tatar-language media outlets shut down. Many Crimean Tatar leaders and activists were arrested, detained without trial, and a number of young men went missing. Continued...
ICC at the Turkish Festival
For the third year, ICC will participate in the Turkish Festival in Washington, DC, on Sunday, September 30. This is an event well attended and considered the "Best of DC" in the Best Festival category. ICC's booth will feature books, DVDs, CDs, and the work of the well-known Crimean ceramicist Rustem Skibin as well as information about Crimean Tatars living in Russian-controlled Crimea. Our involvement in the popular Festival provides us with an opportunity to meet and talk to many individuals about Crimean Tatars and the political repression they experience in their own homeland.
Ceremony at the Victims of Communism Memorial
The ICC participated in the 11th Annual Roll Call of Nations Wreath Laying Ceremony, sponsored by the Victims of Communism Memorial Foundation, on 8 June 2018. Held at the site of the Victims of Communism Memorial in Washington, DC, the Ceremony honored the memory of more than 100 million victims of communist regimes. Individuals, representing 16 embassies and 39 ethnic and human rights organizations, attended the event. The ICC honored more than 100,000 Crimean Tatars, victimized by political repression, famines and deportations.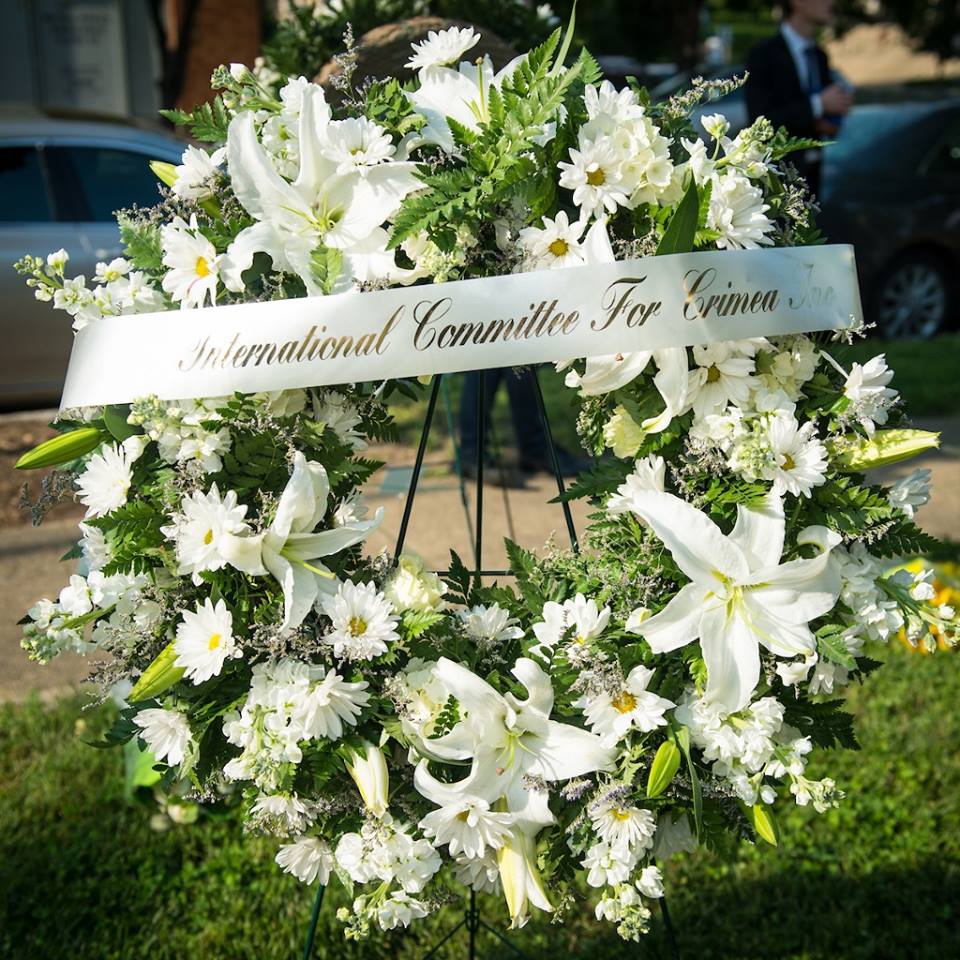 Wreath honoring Crimean Tatars
17 April 1938: A Solemn Occasion in Crimean Tatar History
Crimean Tatars remember the tragic day of 17 April 1938, when they lost the most important members of their intelligentsia. Crimean Tatar educators, literary figures and administrators in the Crimean government were first imprisoned and then executed in Simferopol during a 3-day period, beginning on April 17. They were the victims of Stalinist terror and repression, accused of nationalist activities and espionage. They were the enemy of the people. Among them were Hasan Sabri Ayvazov (former editor of the newspaper Tercüman and political figure, writer and publisher); Osman Akçokrakli (educator, scholar and university teacher); Huseyin Bodaninski (ethnographer and director of Kahn's Palace); Cafer Gafarov (journalist, writer and poet); Abdullah Latifzade (philologist and poet); and Ilyas Tarhan (government official and writer). It is not clear today how many Crimean Tatar intellectuals and professionals were shot to death during this 3-day period (April 17-19), and their burial place is unknown. We honor their memory, dedication and contributions. They will not be forgotten.
Victims of 17 April 1938
Illustration: Emine Emirsaliyeva
The so-called restoration of Khan's Palace
The Khan's Palace (Han Saray) in Bakhchisaray, Crimea, has been a topic of controversy since November 2017. The Palace complex, which dates from the 16th century, served as the administrative center of the Crimean Tatar Khanate until 1783, when Russia annexed Crimea. Following the collapse of the Tsarist Russian government in 1917, Crimean Tatars voted to make the Palace complex their national museum. Last November, when the repatriates wanted to observe the 100th anniversary of Khan's Palace as a national landmark, they found the place locked because of the so-called restoration. Then followed the news that the wooden beams dating from the 18th century had been removed and replaced by concrete, and factory-made Spanish tiles were being substituted for the traditional Crimean Tatar tiles on the roof. We also learned that the Moscow-based company and its affiliate in Simferopol are in charge of the restoration project, but with no experience in restoring historic properties.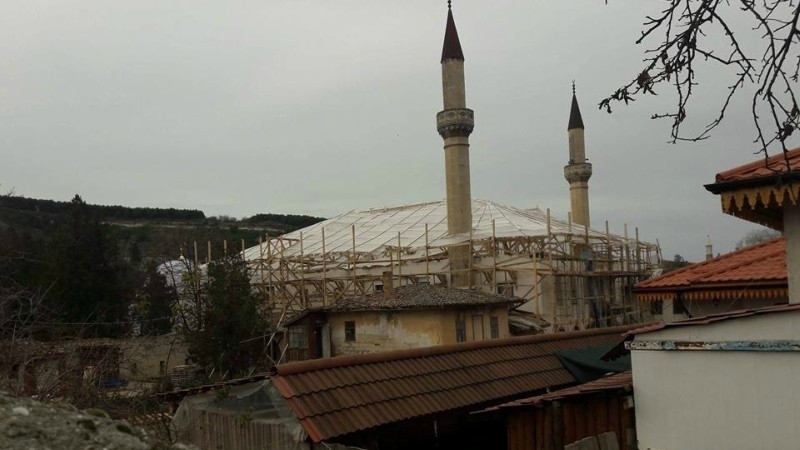 Mosque at Khan's Palace
Critics have charged that the Russian authorities who control the political life in Crimea since 2014 were intent on eradicating historical and cultural heritage of Crimean Tatars. The secretly taken photos of the destruction of the original features of the Palace then circulated in social media. The Ukrainian government appealed to the United Nations, as the complex had been placed on UNESCO's World Heritage Tentative List back in 2003. As of this writing, there is no indication that Russian authorities are willing to respond to the critics or to stop the so-called restoration of Khan's Palace. Most of the damage has been done to the Mosque at the complex, and Crimean Tatars now hope that they could at least save the rest of the historic buildings.
For additional information, see:
"Russia's barbaric destruction of Khan's Palace and Crimean Tatar heritage reaches new critical stage"
by Halya Coynash. Illustration credit: QHA
"Crimean Tatars and the Russian Occupation"
"Crimean Tatars and the Russian Occupation" is a 5-minute slide program created by Barbara Wieser, a member of the ICC Board of Directors. It aims to familiarize the viewer with the homeland of Crimean Tatars and their recent experiences under Russian occupation. We would like to acknowledge the assistance of Lillia Muslimova in selecting the music. This is the revised version of an earlier program, also produced by Barbara Wieser. The program may be viewed on YouTube: https://www.youtube.com/watch?v=p7IRjDyMLDM&feature=youtu.be
A Timeline: Crimean Tatars under Russian Occupation
It has been more than three years since Russian forces seized control of government facilities in Crimea and quickly moved to organize a questionable referendum that resulted in Russia's annexation of the peninsula in March 2014. Crimean Tatars have been under tremendous pressure ever since. Here we offer a brief chronology of events that lists human rights violations, including harassment and deportation of activists, exiling of Crimean Tatar leaders, intimidating members of the media, and illegal searches, confiscation of property, missing individuals and murder. Such abuses did not go unnoticed, and various governmental bodies and human rights organizations in the West responded by issuing statements and reports, documenting undue pressures exerted on the Crimean Tatar population. See: "A Timeline: Crimean Tatars under Russian Occupation."
Photographs relating to Crimean Tatars and Related Activities
Photographs relating to Crimean Tatars and related activities are now available at the FLICKR or PICASA Web sites:
Last Update: 26 May 2019