International Committee for Crimea, Inc.
ICC. P.O. Box 15078, Washington, DC 20003
Of Interest
ICC Participates in Wreath-Laying Ceremony
On 12 June 2015, the 8th annual wreath-laying ceremony took place the Victims of Communism Memorial in Washington, DC to honor more than one hundred million people who were victimized by various Communist regimes. The ICC was among the 50 embassies and organizations that participated in the program. On behalf of ICC, Ilbay Ozbay presented a wreath in memory of all those Crimean Tatars who died as a result of repressive measures of the former Soviet Union. Unusual support for Crimean Tatars came from Free Cossacks of Ukraine in Toronto, Canada. A small group of Cossacks drove down from Toronto to participate in the ceremony.
Cossack Banner at Victims of Communism Memorial
Recent Additions to the ICC Web site
Two documents were recently published on the ICC Web: an Interview and Comments by Brian Woods, "Space as Part of Crimean Tatar Identity: A Millenial's View," and an essay by Inci Bowman, "Genetically, Who is a Crimean Tatar?" Brian Woods focuses on the concept of space in forming Crimean Tatar identity by interviewing a young woman who moved to Crimea with her repatriating family in the early 1990s. Her childhood memories and her reaction to the recent Russian occupation of her homeland are covered. Inci Bowman challenges the traditional notion that Crimean Tatars are basically Asian in nature by citing evidence that they carry European genes also. As indigenous people of Crimea, they are descendants of the peoples who moved to the peninsula from different directions and lived there for centuries.
71st Anniversary of Crimean Tatar Deportation
On the 71st Anniversary of Crimean Tatar Deportation on 18 May 1944, we would like to share with you the logo created for the occasion. The swallow is a symbol of spring, of hope and renewal. For those Crimean Tatars who were once again exiled from their homeland, Crimea is now in red, after more than a year of Russian occupation. Those who remind behind have to endure repression, being subject to illegal searches, loss of property and individual freedoms, and kidnappings, even death. On this somber occasion, we remember all those lives lost during the brutal deportation of Crimean Tatars and decades of exile in distant lands.
Farewell to Ambassador Olexander Motsyk
His Excellency Olexander Motsyk, Ambassador Extraordinary and Plenipotentiary of Ukraine to the US since 2010, recently returned to Kyiv. The ICC greatly appreciates Ambassador Motsyk's interest in Crimean Tatars and his various statements in support of Crimea's indigenous people during his term of service in Washington, DC. Just prior to his departure, he prepared a written statement to be read at the Forum "The Struggle of the Crimean Tatars under Russian Occupation," held at the University of Minnesota in Minneapolis on 21 April 2015. It was an event co-sponsored by the ICC, and his remarks, "Statement of Ambassador Olexander Motsyk," is available at this Web site. We extend our best wishes to Ambassador Motsyk and our appreciation for his long service in Washington.
"Crimea and the Crimean Tatars"
"Crimea and the Crimean Tatars" is a 4-minute slide program created by Barbara Wieser, a member of the ICC Board of Directors. It aims to familiarize the viewer with the homeland of Crimean Tatars and their recent experiences under Russian occupation. We would like to acknowledge the assistance of Lillia Muslimova in selecting the music and certain images. The program may be viewed on YouTube: https://youtu.be/cQAqBvvKJro
Crimean Tatar TV Forced to Close
The only Crimean Tatar television station ATR went off the air right after midnight on April 1, 2015. Its anticipated shut down was discussed widely in the Western media, and European Union and US State Department issued statements opposing the move. Russian officials rejected ATR's application for a new licence for four times, saying that the document contained procedural errors. Amnesty International called the official decision to close ATR "blatant attack on freedom of expression, dressed-up as an administrative procedure." Along with the ATR, children's TV Lale and radio station Maydan also had to stop operations. ATR General Director Lilya Budzhurova was adamant: "Those who decided to close TV ATR probably decided not just to hit out at a television channel, but at the entire people [Crimean Tatars]....Their attempt can hardly succeed; we have been through worse than this."
See: "Crimean Tatar TV silenced, searches and arrests continue" by Halya Coynash and Mubeyyin Altan's Appeal "Don't Let Them Kill ATR," sent to Crimean Tatar diaspora. (Photo credit: Cengiz Soysal)
Demonstration in front of Russian Consulate in New York
"Who Talks about the Crimean Tatars Nowadays?"
In his remarks delivered at the film screening of "Son of Crimea" at George Mason University on 28 March 2015, Paul Goble compared Petro Grigorenko (1907-1987) and Mustafa Jemilev (1943- ), both former Soviet dissidents and staunch defenders of Crimean Tatars. Grigorenko was stripped of his rank as a General in the Soviet Army and later his Soviet citizenship because of his unyielding stand on Crimean Tatars. The General insisted that terrible crimes had been committed against the Tatar population, who must be allowed to return to their homeland Crimea and have their own republic. Like Grigorenko and Jemilev, Goble argued, we must continue to speak about the Crimean Tatars whose human rights are being grossly violated under the oppressive rule of pro-Russian government of occupied Crimea. "Given the legacy of General Grigorenko, the efforts of Mustafa Jemilev, and the nature of the situation now," Goble concluded, "we cannot do any less." His remarks, "Who Talks about the Crimean Tatars Nowadays?" can be accessed here at this site.
Screening of "Son of Crimea"
A Screening of the documentary "Son of Crimea: Struggle of A People" is scheduled for 28 March 2015 at the George Mason University, Arlington, VA. Parts 4 and 5 of the documentary that relate to Soviet human rights activist Petro Grigorenko will be shown along with another documentary in the making. Titled "Maidan, Petro Grigorenko and Crimean Tatar Dissidents," the program is organized by the Arlington Sister City Association, in cooperation with the International Committee for Crimea, Inc. and the Embassy of Ukraine. For more information, see the Flyer.
Nowruz Celebration in Washingon, DC
International Committee for Crimea, Inc. was invited to the Nowruz Commission's Gala by the Embassy of Ukraine. We helped the Embassy staff organize a cultural exhibit of Crimean Tatar arts and crafts. Ukrainian Embassy participates in Nowruz Commission's events because of Crimean Tatars, the largest minority group in Ukraine who observe Nowruz. The festive event was held on 14 March 2015 in the Andrew Mellon Auditorium, Washington, DC. For related photos, see ICC's Picasa Web Album "Nowruz Commission's Gala."
Nowruz Celebration in DC
A Timeline of Human Rights Abuses in Crimea
It has been a year since Russian forces seized control of government facilities in Crimea and quickly moved to organize a questionable referendum that resulted in Russia's annexation of the peninsula in March 2014. On the first anniversary of the occupation of Crimea by Russian forces, we offer a brief timeline, "Crimean Tatars under Russian Occupation and the Western Response." The list chronicles human rights violations, including harassment and deportation of activists, exiling of Crimean Tatar leaders, intimidating members of the media, and illegal searches and confiscation of property. Such abuses did not go unnoticed, and various governmental bodies and human rights organizations in the West responded by issuing statements and reports, documenting undue pressures exerted on the Crimean Tatar population. See: "Crimean Tatars under Russian Occupation and the Western Response: A Timeline."
Crimean News Agency Denied License
The only independent news agency of Crimean Tatars in Crimea is targeted by the occupying Russian forces. Authorities have refused to renew the license of the Agency, also known as Qırım Haber Ajansı or QHA. See: Paul Goble's Russian Occupation Authorities Move to Close Crimean News Agency, Window on Eurasia, 15 February 2015.
QHA Logo
Religious Freedom in Crimea
"Status of Religious Freedom in Crimea Today" by Catherine Cosman is an excellent summary of developments since the Russian occupation of the peninsula in March 2014. The article details how the Russian law on extremism is affecting the Muslim population, namely Crimean Tatars, who have been subjected to numerous searches and confiscation of property. Ms. Cosman is a Senior Policy Analyst at the US Commission on International Religious Freedom, Washington, DC.
Greta Uehling on Crimean Tatars
Greta Uehling's new publication, "Crimean Tatars as Victims of Communism," traces the history of the various forms of repression under Soviet regime, famines, collectivization, elimination of intellectuals, mass deportation and "Detatarization of Crimea. The article helps us focus on the sufferings of Crimean Tatars prior to their return to the Autonomous Republic of Crimea in Ukraine and their efforts to reestablish their lives in their homeland before the Russian occupation of the peninsula in February 2014.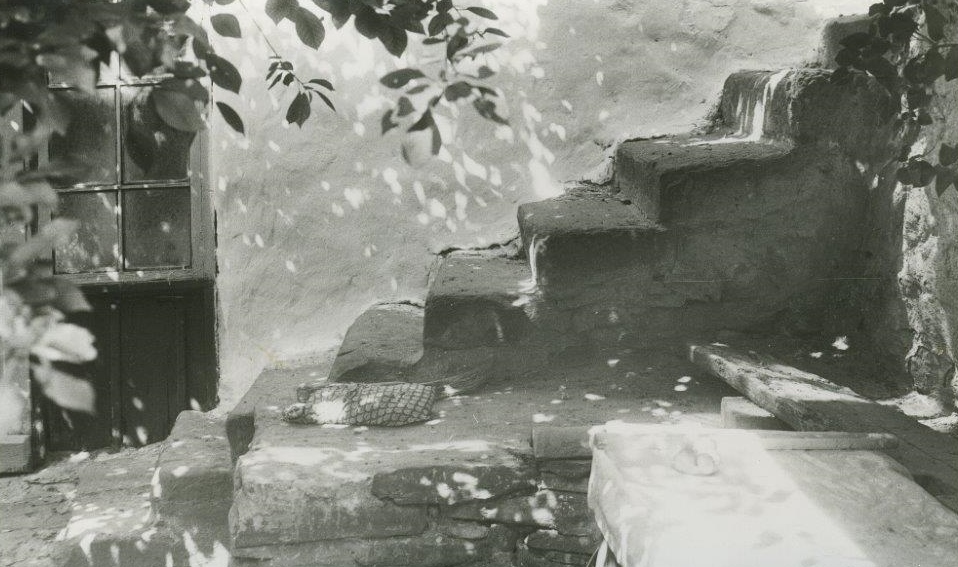 Stairs made of grave markers
Dr. Uehling teaches at the University of Michigan, Ann Arbor, and is the author of a major work on Crimean Tatars, Beyond Memory (2004). She is on the ICC Board of Members.
Ukrainian Embassy expresses solidarity
We greatly appreciate the support of the Ukrainian Embassy in Washington DC. On 23 September 2014, Ukrainian Embassy staff held the Crimean Tatar flag, expressing their solidarity with Crimean Tatars fighting for freedom. They tweeted "I am Crimean Tatar" and "Crimea is Ukraine," inspired by Ukrainian President Victor Poroshenko's speech at the U.S. Congress, when he said "I am Crimean Tatar."
Ukrainian Staff, holding Crimean Tatar flag
Photographs relating to Crimean Tatars and Related Activities
Photographs relating to Crimean Tatars and related activities are now available at the FLICKR or PICASA Web sites:
Last Update: 27 June 2015